May 2019
| Mon | Tue | Wed | Thu | Fri | Sat | Sun |
| --- | --- | --- | --- | --- | --- | --- |
| | | 1 | 2 | 3 | 4 | 5 |
| 6 | 7 | 8 | 9 | 10 | 11 | 12 |
| 13 | 14 | 15 | 16 | 17 | 18 | 19 |
| 20 | 21 | 22 | 23 | 24 | 25 | 26 |
| 27 | 28 | 29 | 30 | 31 | | |
Calendar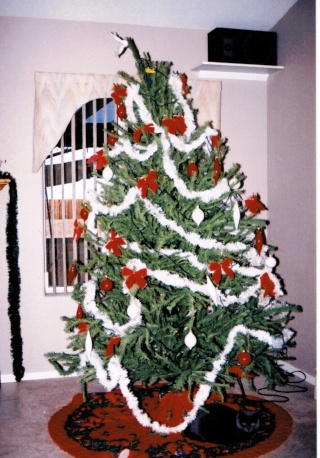 Remember that one Christmas you had that stands out from all the rest?
The one that gets talked about at every Christmas thereafter?
Well, this year we had ours!
Christmas last year was perfect. Chad was eleven and so excited each day as Christmas got closer. On Christmas Eve, Paula and I let him stay up pretty late, and even allowed him to open one of his presents. It was the kind of present that you forget to mention the next day when you report everything to your best friend. It may have been a new flashlight, I don't remember, but it helped to curb the anxiety.
It was nearly midnight before he finally dozed off that Christmas Eve. We then finished putting all the last minute presents under the tree that had been cleverly hidden throughout the house, and went to bed. Chad ended up sleeping in until 8am Christmas morning. Paula and I had risen early, consumed our morning coffee, and were in position when he finally awoke and began the shredding and cheering ritual. That Christmas was a parent's prayer answered. Perfect. We even had all the batteries for all the toys. Naturally we assumed this year would be every bit as perfect as last year was. This year Chad fell asleep about 10:30, and by 11pm we were in bed and anticipating a good 8 hours of sleep and a couple cups of coffee prior to repeating the shredding and cheering of this year's Christmas morning.
As always, we seem to be scheduled to appear at several different family locations around the holidays. One of our schedules this year was to leave early on Christmas day, and go to Aunt Deb and Uncle Jim's. It was to be a nice leisurely 3-hour drive through the desert and over the mountains. It was looking like a great relaxing Christmas schedule that would satisfy us all. No stress; Calm and relaxing. However; we had overlooked a big clue to the contrary that Chad presented to us just prior to his going to bed that Christmas Eve.
As parents, you learn to recognize these clues. As a child comes into this world, God anoints the parents with the ability to decipher these clues. But something went terribly wrong with that anointed gift when Chad asked his mom if midnight was AM or PM. Paula answered his question, but the clue didn't register. She never heard in her head the little voice that says, "Why would Chad want to know if midnight is AM or PM."? The clue slipped past her. And as a result, we now have a well-remembered Christmas Lesson.
After the age of fifty, you no longer hit the pillow and drop into a deep restful sleep. It's usually more like a procedure of getting all the aching areas to relax, and slowly drift from fully awake and uncomfortable, to drowsy and almost comfortable, to comfortable but can't stop thinking about everything that still needs to be done around the house, to finally, a series of 10 or 12 good half hour naps until the alarm clock goes off.
I was just entering into the good nap stages when I heard Chad whispering to his mom next to me. "Merry Christmas mom! Come and look at all the presents under the tree." I let one eye open just enough to allow the digital display on my bedside clock to come into focus. It was blinking 12:05 AM.
Something went wrong today. Someone must have missed a clue. Chad had set his alarm clock for midnight so he could wake us up and wish us a Merry Christmas. He wants us to see all the presents under the tree. He's 12! He knows we already saw all the presents under the tree just an hour ago! I closed my slightly opened eye and made a conscious decision to let mom handle this one. Paula got up with Chad and he had the tree lighted and was thrilled. Paula gave her best loving and understanding responses as any mother would, and after diffusing the situation, returned to bed.
Slitting open my eye one more time, my clock blinks at me 12:20AM. Now that I have regressed back to the comfortable but can't stop thinking stage, I asked Paula, "What's up"? I don't remember her exact words, but they added up to...we're up!
It just didn't make any sense to think Chad might go back to sleep, or that WE could if we wanted too. So there we are at 12:30AM getting into position for the shredding and cheering ritual. Chad is all giddy with excitement, and Paula and I are wondering how we could have avoided this. What went wrong? What do we do next? How is this early morning change in plans going to affect the overall scheme of things? Should we brew some coffee, or go back to bed after the shredding?
Some point in the middle of all this pondering is when Chad lifted up the heavy package behind the tree. The one that required him to stand on his tip toes and twist around to the right, and lean in a little. While coming back out of that stance with extra weight at the end of his extended fingertips, a slight imbalance occurred and caused a total collapse of both Chad and the overly decorated Christmas tree. As parents, we received the whole episode in slow motion. Slow motion is another parent anointed gift from God. It usually allows you the extra few seconds you need to respond. Everyone knows that kids are way faster than their old parents can react. Sometimes though, even God's slow-motion gift is just not enough. This was one of those times. Chad climbed out from under the bent and twisted metal and plastic of our old fake tree, and declared without hesitation, one of his favorite sayings. The same thing we hear each time he falls off a scooter, or trips and falls, or crashes into something, He climbs out and shouts," I'm OK"! , And raises his hand over his head as a sign of verification.
Needless to say, we are wide-awake now. Paula brews some coffee while Chad and I take a brief intermission and upright the bent and twisted tree, and rehang the scattered ornaments. After completing the gift exchanges, and cleaning up the remnants, we figured as long as we are up, we may as well pack up the motor home and head out to Aunt Deb's and Uncle Jim's. We originally planned to watch the sun come up in the desert as we approached the mountains. The sun and shadows would be beautiful. Instead, our leisurely 3-hour drive through the desert was in complete darkness. We had crossed the desert and entered into the mountains, and the sky was still black. Luckily Uncle Jim was awake when we arrived at his house. It was only 6am and the sun was just rising somewhere behind the scattered grey clouds. Shortly thereafter, Aunt Deb and the kids were delighted to see us as our arrival woke them on that special Christmas morning.  
Everyone enjoyed a good laugh that morning as we told about our "Christmas Lesson" story for the first time. To this day, our Christmas treetop "Dove of Peace" ornament still perches precariously from the crooked treetop as a reminder of that special Christmas; The Christmas that we learned our valuable lesson. If a twelve year old asks you if midnight is am or pm, it may be wise to ask why he wants to know.
Admin




Posts

: 79


Join date

: 2014-04-13


Age

: 67


Location

: Surprise AZ




---
Permissions in this forum:
You
cannot
reply to topics in this forum